Time left to complete order

Highmark Holiday Pops
Skip to get tickets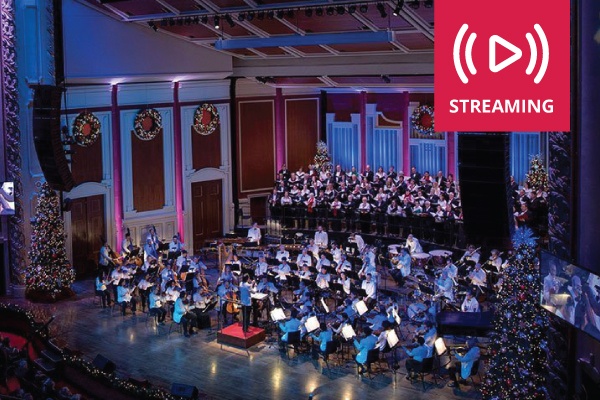 Highmark Holiday Pops
About this Performance
Share Pittsburgh's favorite holiday musical tradition with family, and thrill to the spectacle of the season. It's a sparkling celebration of carols, classics, sing-alongs and more! And yes, Virginia, there will be a Santa Claus!
The Artists
This modal contains biographic information about Byron Stripling
Byron Stripling
conductor
With a contagious smile and captivating charm, the conductor, trumpet virtuoso, singer and actor Byron Stripling has ignited audiences across the globe. Recently named Principal Pops conductor of the Pittsburgh Symphony Orchestra, his baton has led orchestras throughout the United States and Canada. As soloist with the Boston Pops Orchestra, Stripling has performed frequently under the baton of Keith Lockhart, as well as being featured soloist on the PBS television special, "Evening at Pops," with conductors John Williams and Mr. Lockhart. Currently, Stripling serves as artistic director and conductor of the highly acclaimed Columbus Jazz Orchestra.
Since his Carnegie Hall debut with Skitch Henderson and the New York Pops, Byron Stripling has become a pops orchestra favorite throughout the country, soloing with over 100 orchestras around the world including the Boston Pops, National Symphony, Pittsburgh Symphony, Dallas Symphony, Cincinnati Pops, Seattle Symphony, Baltimore Symphony, Minnesota Orchestra, St. Louis Symphony, Vancouver Symphony, Toronto Symphony, and orchestras throughout Europe and Asia. He has been a featured soloist at the Hollywood Bowl and performs at festivals around the world.
An accomplished actor and singer, Byron Stripling was chosen, following a worldwide search, to star in the lead role of the Broadway bound musical, "Satchmo." Many will remember his featured cameo performance in the television movie, "The Young Indiana Jones Chronicles," and his critically acclaimed virtuoso trumpet and riotous comedic performance in the 42nd Street production of "From Second Avenue to Broadway."
Television viewers have enjoyed his work as soloist on the worldwide telecast of The Grammy Awards. Millions have heard his trumpet and voice on television commercials, TV theme songs including "20/20," CNN, and soundtracks of favorite movies. In addition to multiple recordings with his quintet, work with artists from Tony Bennett to Whitney Houston, his prolific recording career includes hundreds of albums with the greatest pop, Broadway, soul and jazz artists of all time.
Byron Stripling earned his stripes as lead trumpeter and soloist with the Count Basie Orchestra under the direction of Thad Jones and Frank Foster. He has also played and recorded extensively with the bands of Dizzy Gillespie, Woody Herman, Dave Brubeck, Lionel Hampton, Clark Terry, Louis Bellson, and Buck Clayton in addition to The Lincoln Center Jazz Orchestra, The Carnegie Hall Jazz Band, and The GRP All Star Big Band.
Byron Stripling is devoted to giving back and supports several philanthropic organizations including The United Way and Homelessness advocate and The Community Shelter Board. He also enjoys sharing the power of music through Seminars and Master Classes at colleges, universities, conservatories, and high schools. His informative talks, combined with his incomparable wit and charm, make him a favorite guest speaker to groups of all ages.
Byron Stripling was educated at the Eastman School of Music in Rochester, New York and the Interlochen Arts Academy in Interlochen, Michigan. One of his greatest joys is to return, periodically, to Eastman and Interlochen as a special guest lecturer.
A resident of Ohio, Stripling lives in the country with his wife Alexis, a former dancer, writer and poet and their beautiful daughters.
This modal contains biographic information about Vanessa Campagna
Vanessa Campagna
vocalist
It is her commanding presence and explosive stage personality along with her dynamic and versatile voice that has made Vanessa Campagna a fan favorite. These traits along with her passion to perform and write have earned her the opportunity to work with some of the most talented people in the music entertainment business as well as perform at some of the biggest music venues across the country. It is her diversity, yet vocal purity that earned her the respect of world-renowned multi-award winning, director/composer, the late, Marvin Hamlisch; who claimed, "Vanessa is the real deal." Some of her most memorable moments have come from appearances with Mr. Hamlisch and the Pittsburgh Symphony Orchestra performing, the "Holiday Pops." In the words of The Pittsburgh Post-Gazette after one of her shows, "…the blossoming star power and whopping voice of Vanessa Campagna shined brightly." Her Christmas music has been heard throughout the holiday season on many radio stations across the country, and her rendition of the classic Christmas song, "Little Drummer Boy" made it into the top 40 on the Holiday Charts. With the beautiful Christmas standards we have all come to love, and with the new and exciting pop music of today, Vanessa has been able to warm the hearts of many as she spreads the Christmas spirit through her own headlined Christmas concerts. "It wouldn't be Christmas without seeing one of Vanessa's Christmas shows" said one industry insider. "Her stage presence is unbelievable and her personality is contagious!"
She has performed at the Latin Songwriters Hall Of Fame Awards, accompanied by Eduardo Marturet and the Miami Symphony Orchestra. There, Vanessa payed tribute to Latin songwriting great, César Portillo de la Luz, singing one of his hit songs; "Contigo En La Distancia."
Vanessa continues to work in Nashville singing, producing, and writing music with A listers such as, multi #1 hit songwriter and producer Derek George, Liz Rose, Chuck Jones, Bryan White, and mega-hit maker Desmond Child.
Vanessa's versatility enabled her to land the soulful theme song for the television show, Bar Karma, which aired on Current (CURNT) TV, and and her voice was featured in the NBA All-star, Amar'e Stoudemire's documentary,"Amar'e Stoudemire: In the Moment". She was part of the 2013 OSCAR winning team who collaborated on the music and lyrics for the Academy award winning documentary/short, Inocente, which aired on MTV.
Vanessa was born and raised in Beaver Falls, PA just north of Pittsburgh. She currently resides in Nashville, TN.
This modal contains biographic information about Christopher Sanders
Christopher Sanders
special guest
Christopher is an award-winning actor and singer, who has performed in venues around the world. Most recently he received critical acclaim for playing Daddy Warbucks (Annie) with Sally Struthers and for reprising his powerful performance of Don Quixote (Man of La Mancha). Over the years he had the pleasure of performing with George Hearn, Edde Mekka, Roddy McDowell, Carol Lawrence, John Raitt, Debbie Boone and Rosemary Clooney. Additional theatrical credits include; Georges (La Cage aux Folles), Frollo (Disney's Hunchback of Notre Dame), Sweeney Todd (Sweeny Todd), Javert (Les Miserables), Emile (South Pacific), Captain von Trapp (Sound of Music), Sky Masterson (Guys and Dolls), Fred/Petruchio (Kiss Me Kate), Jekyll/Hyde (Jekyll and Hyde), Beast (Disney's Beauty and the Beast), Frank Butler (Annie Get Your Gun), Juan Peron (Evita), Phantom (Phantom of the Opera), and Cinderella's Prince/Wolf (Into The Woods). Concert engagements; Pittsburgh Symphony, Knoxville Symphony, Bangor Symphony, Pasadena Pops, and The Music of Andrew Lloyd Webber at the National Theatre and Concert Hall Taiwan. Christopher tours the country as the baritone for the legendary 1940's singing group – The Pied Pipers. In 2001, they were inducted into the Vocal Group Hall of Fame along with the Bee Gees and The Eagles. Christopher's solo CD - Curtain Call is available on iTunes and CDBaby.com. www.christophersanders.net
This modal contains biographic information about Jeffrey Grubbs
Jeffrey Grubbs joined the Pittsburgh Symphony Orchestra in 1996 after playing in the Atlanta Symphony Orchestra and the Florida Philharmonic Orchestra.
Grubbs, a native of Cleveland, Ohio, received his musical training at Youngstown State University, The Cleveland Institute of Music and the University of Southern California and is a student of Lawrence Angell, Paul Ellison, Ralph Jones, Anthony Knight and Tony Leonardi.
He started as a violinist at the age of 9 and later switched to the double bass at age 18. With this late start, Grubbs gained a great deal of experience as a student by working very diligently and becoming very active in the Northeast Ohio‑area music community performing with many of the symphony orchestras in that region. While a student at USC, he won the position of orchestral fellow with the Atlanta Symphony Orchestra through the Music Assistance Fund, now the Sphinx Organization, which gave him the opportunity to perform as a full-time member of that ensemble for two seasons.
In addition to his orchestral achievements, he is also an accomplished jazz bassist. In 1986, he won Downbeat Magazine's "Dee Bee" award for Best Collegiate Bass Soloist from a submittal of a recording of his work with the Youngstown State University Jazz Ensemble. He has performed and recorded with many touring internationally known jazz artists, including Nat Adderly, Kenny Burrell, Joe Lovano, Diane Schur, Dr. Lonnie Smith, Ira Sullivan and Joe Williams. Grubbs is currently quite active performing in the Pittsburgh jazz community.
Grubbs has served as a faculty member of Carnegie Mellon University, Florida International University, Clark-Atlanta University, the University of Pittsburgh, the Brevard Music School and Slippery Rock University. He also served as associate professor of jazz double bass at the University of Illinois at Urbana/Champaign and is currently serving as adjunct professor of string bass at Indiana University of Pennsylvania.
Grubbs enjoys living in the City of Pittsburgh with his wife, Tania, and their three children.
This modal contains biographic information about Jim Rupp
Jim Rupp has toured extensively with the bands of Woody Herman, Maynard Ferguson, and Glenn Miller. He is the drummer on three Woody Herman CDs, The Fiftieth Anniversary Tour, (which was nominated for a GRAMMY® Award), Legacy, and Live In London. Jim spent eight years with GRAMMY® Award-winning jazz singer Diane Schuur, and he is currently the drummer in the Cleveland Jazz Orchestra, and the Cleveland POPS Orchestra. He has also performed with artists such as Ray Charles, Tony Bennett, Joe Lavano, Hank Marr, Buddy DeFranco, Clark Terry, Joe Williams, Rosemary Clooney, the Smithsonian Masterworks Jazz Orchestra, and Natalie Cole. Jim has coauthored a critically acclaimed jazz drumming textbook, "Baby Steps to Giant Steps." He has taught at Indiana University, and the University of Michigan, as well as his current appointment at The Ohio State University. An active clinician, he gives workshops and educational clinics around the country. He is also the past chair of the drum set committee for the Percussive Arts Society, a past board member of NAMM, and a past executive board member of the Percussive Arts Society.
Sponsored by

HOLIDAY SPONSOR